Wellness at Wilmington College
A healthy lifestyle encompasses the everyday choices you make that affect your physical, mental and spiritual health. At Wilmington College, we are dedicated to your well being as you establish the foundations for your future.
Physical fitness should be a key part of everyone's comprehensive wellness regimen. College students who engage in a regular fitness routine are more likely to continue those healthy habits throughout their lives, oftentimes contributing to a more successful lifestyle. Wilmington College is committed to providing its students with quality fitness facilities, opportunities and instruction. We're here to help you establish and attain your personal fitness goals.
The College not only offers you a wide variety of ways in which to become physically fit in the QRC, it also accommodates your interest in running through road races like the popular fall and spring 5Ks, table tennis and disc golf tournaments, intramural sports and special programming highlighting topics ranging from good nutrition and spirituality to leadership development.
QuakerFit is dedicated to providing quality fitness and wellness classes for the Wilmington College Community.
Hours
Due to COVID-19, all QRC open lift sessions, QuakerFit group fitness classes, QRC basketball court, and indoor walking track must be reserved online:
QRC Lift Session
QRC Group Fitness Class
Regular schedule is in effect when classes are in session. The QRC is open limited hours during breaks and the summer. Check the Student App for special hours.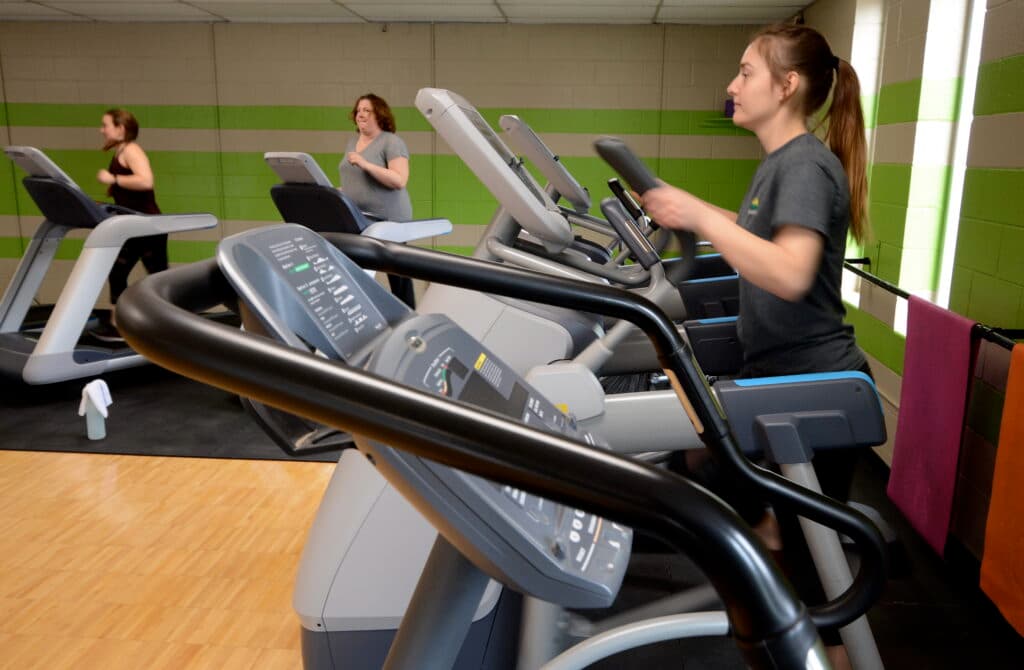 Virtual Tour
The Quaker Recreation Center (QRC) opened in Fall 2017. Previously the site of the Clinton County YMCA, the space was renovated for Wilmington College faculty, staff and students to enjoy as a campus-exclusive fitness and recreation facility.
Location
The QRC is attached to Hermann Court and accessible from the Center for Sport Sciences parking lot.
The beautiful 2,184 sq. ft. Group Fitness Room contains a variety of cardio machines including four treadmills, two AMT machines, two elliptical machines, a recumbent bicycle, a rowing machine and four Spinner brand spinning bikes. Additionally, other equipment such as free weights, a weight bench, kettlebells, medicine balls, stability balls and yoga mats can be used. Most QuakerFit classes are conducted in the Group Fitness Room. Full perimeter mood lighting helps early morning yogis find bliss as they practice in front of wall-mounted mirrors. The room sports a 55" flat screen TV and a bluetooth speaker for visitors to enjoy. Wi-Fi is available throughout the facility. From buff to bliss, the QRC Group Fitness Room has it all!
The front lobby houses a welcome desk, a 434 sq. ft. cable weight machine area, a casual lounge space with futons and a 55" flat screen TV for watching shows or for playing video games.
A spacious, 483 sq. ft. carpeted Spinning Studio has 15 Spinner brand bikes, a quality sound system, wall-mounted mirrors, and mood lighting to create the ultimate Spinning experience.
The Men's Quaker Wrestling Team enjoys a designated 62x31 ft. room in the QRC that is padded wall-to-wall (and up the wall) and locker room.
Boxing classes are primarily conducted in the QRC gym space. Heavy bags, speed bag platform, hand wraps, gloves and other equipment is provided for class participants. The gym is shared with Aerial's Athletics, allowing QRC patrons to enjoy the other half-court basketball gym for pick-up basketball games, intramural sports, group fitness classes, and RA activities. The indoor walking/running track offers a bird's eye view of the entire gym as patrons make 16.5 laps to reach a mile.
The QRC has both men's and women's locker rooms with restrooms. Showers are not available at this time.
Patrons can schedule an orientation at the QRC to learn more about using the equipment and getting started with a workout program.