At Wilmington College, our faculty, staff and American students enjoy having international students on campus. We believe that students from other parts of the world add a desirable dimension to the overall college experience. Many Americans are especially interested in learning about the various cultures, systems of education and personal backgrounds represented by international students. Wilmington College is a welcoming campus community and people here will do everything they can to assist you in adapting to our campus culture. We want international students to have an enjoyable, meaningful and successful experience at Wilmington College and in the United States.
Wilmington College is located in Wilmington, Ohio, a safe and friendly town of approximately 13,000 residents located in Southwestern Ohio. It is within an hour's drive of three major metropolitan areas: Cincinnati to the south, Columbus to the north, and Dayton to the west. Our international students tend to appreciate the fact that they can study in a quiet, peaceful environment during the week while able to take in the sights and activities that major cities offer on the weekends and during breaks.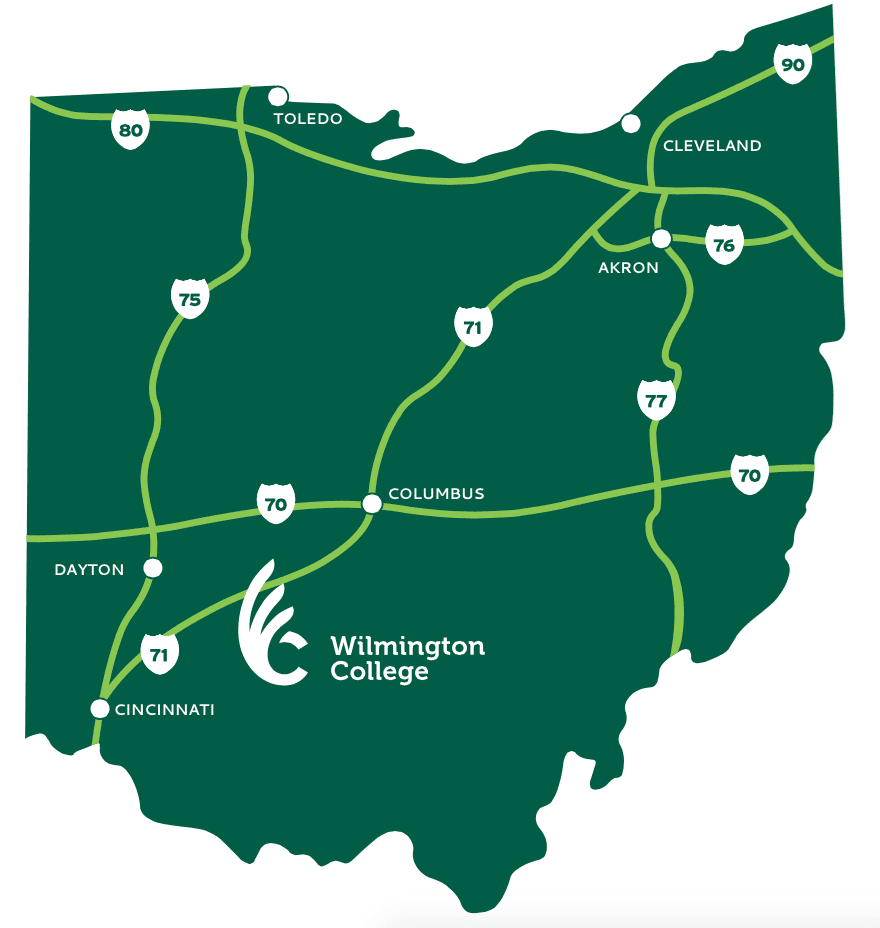 Transportation
---
COVID-19 PROTOCOLS ARE IN PLACE.
• Airport pick up and transportation to campus upon arrival (from Cincinnati, Columbus, or Dayton, Ohio airports)
• Transportation to and from these airports when leaving or arriving from semester breaks
Housing
---
• Housing is provided free for early arrival and late departure before and after each academic semester if deemed necessary
• On-campus housing guaranteed all four years for international students
Advising
---
• Assistance with immigration paperwork and concerns
• Individual academic and career counseling
International Student Services
Initial course placement based upon abilities

Free tutoring available through the Student Resource Center

Major-related internship opportunities for 3rd and 4th year students

Faculty academic advisor within your major

International Club (made up of international and US students)
Scandinavian Student Opportunity
Undergraduate College credit may be available to students from Scandinavia
International students from Scandinavia who have completed 3rd year Gymnasium may be eligible to receive College credit for their coursework. In order to receive College credit, interested students must submit their transcripts to the World Education Services (WES), a course-by-course evaluation of their high school transcripts is required. The course-by-course evaluation will then be sent from WES to the Wilmington College Office of Admission. Wilmington College will then determine the number of courses and academic credit the student will receive.
The fees for WES services are in the range of $200- $250 for the course-by-course evaluation and are payable to WES. Fees associated with such evaluations are the responsibility of the student.
The WES website provides instructions on what is required for a course-by-course evaluation, how to submit documents and other important information to help students through the process.
Contact Niklas Martensson, international enrollment representative at nmartensson@wilmington.edu for more information.