The Meriam R. Hare Quaker Heritage Center is a facility dedicated to celebrating the local, regional and national history of the Religious Society of Friends and is located at Wilmington College. The center features 1,261 square feet of display areas, and a traditional Quaker meeting­house. The Quaker Heritage Center celebrates the history of the Religious Society of Friends who settled in southwest Ohio, as well as their contributions to America and its culture. Quakers have a long history of activism on issues such as peacemaking, civil rights, racism and social justice. Visiting exhibits and speakers are just part of the experience. Our exhibits, programs, and special events help our students, faculty, staff, and community members to better understand what we mean when we say Wilmington is a Quaker college.
Features
Permanent Exhibit: Friends in Southwest Ohio, highlighting Quaker contributions to American history

The QHC Gallery: hosts multiple exhibits throughout the year
Hours
Monday through Friday | 9 a.m. to 5 p.m.
Summer Hours: Monday through Thursday | 10 a.m. to 4 p.m.
Or by appointment
Location
Boyd Cultural Arts Center (Wilmington College) At the intersection of College Street and Douglas Street Wilmington, Ohio Map & Directions School and group tours are available. For more information, contact Director Tanya Maus at 937.481.2371 or qhc@wilmington.edu.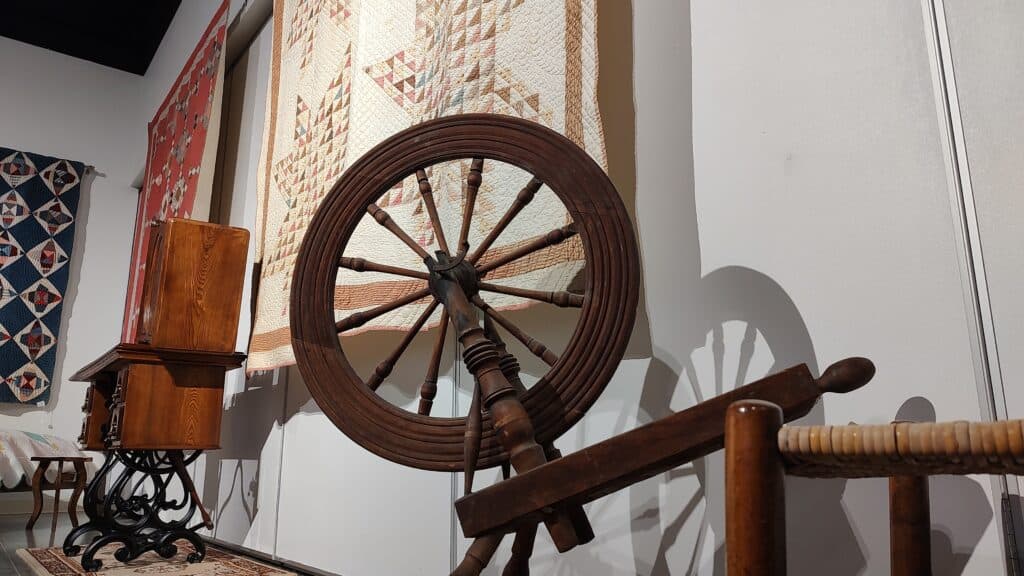 Fall 2023 Exhibit
Quilts Through Time
Honoring Quaker Women and Quilting in the Nineteenth and Early Twentieth Centuries Through the Quilts of the Meriam R. Hare Collection

Weekdays Aug. 21 through Dec. 12 | 9 a.m. to 5 p.m.
(NOTE: Exhibit will be open through Aug. 17, M-TH, 10 a.m. to 4 p.m.)

In this exhibit, viewers will witness the painstaking artistry of three generations of Quaker women quilting in Clinton County, Ohio, from the 1840s to the 1960s. "As you travel through time, you will view 13 quilts drawn from the collection of Quaker Heritage Center founder and Quaker Meriam R. Hare (b. 1928-d. 2003).
Support The QHC
Donate Artifacts
The Quaker Heritage Center of Wilmington College collects items associated with or manufactured by individual Friends or Quaker families from the Miami Valley/Southwest Ohio/Wilmington Yearly Meeting region. Items for the collections are also subject to the following criteria: state of preservation, degree of rarity, representativeness of Quaker culture, aesthetic merit, associations with Wilmington College, representativeness of the outstanding activeness of prominent Friend. For more information, contact Director Tanya Maus at 937.481.2371 or qhc@wilmington.edu.
Make a Financial Gift
Your financial support allows us to develop thought-provoking exhibits, provide quality educational programming for children and adults, and care for the collections that tell the story of Quakers and Quakerism in our region. Simply type "Quaker Heritage Center" into the designation box of our WC giving form.
Affiliated Organizations