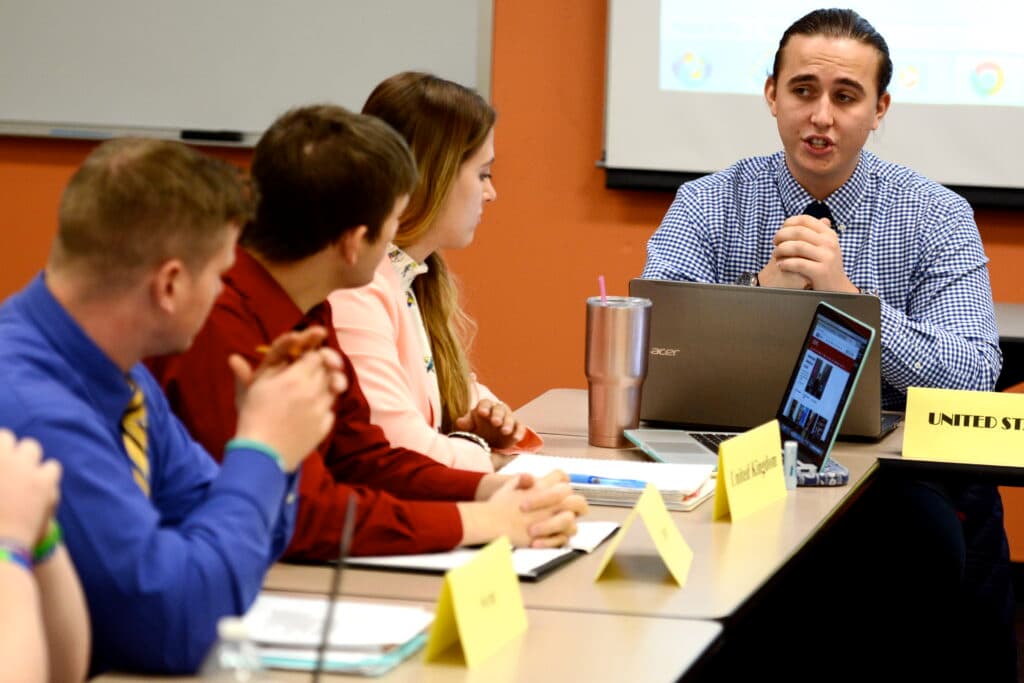 Political Science
The political science major at Wilmington College offers students the opportunity to pursue careers in international studies, public administration, legislative affairs, and law. Students majoring in political science study the institutions and processes societies create to make collective decisions about human problems. Courses in this field address issues of justice and human rights, social movements, and economic development as they relate to the distribution of power in society.
In keeping with the College mission, the political science major encourages students to examine problems of conflict reconciliation and peacemaking in both national and international contexts. Although the political science major is compatible with virtually any other major at the College, students in the department often double major in criminal justice, psychology, Spanish, environmental studies, or minor in sustainability.
The department encourages its students to pursue internships, community service opportunities, and extra-curricular activities. It offers a number of study abroad programs, internships in Washington, D.C., research opportunities and lobbying activities.
36
Credit Hours to earn a Major
20
Credit Hours to earn a Minor
Wilmington College sends dozens of students to Washington, D.C. to participate in the Friends Committee
Political Science
Studying Political Science at Wilmington College provides you with the opportunity to better understand the world and your place in it. We introduce you to political thought with a background in history. You'll learn about the institutions and processes dealing with the human condition. Courses also address such issues as justice, human rights, social movements and economic development as they relate to the distribution of wealth and power in society.
We challenge you to use logical and critical thinking in learning about controversial topics while, at the same time, valuing other's opinions. You will participate in simulations involving global politics to better understand how coalitions are formed, conflicts are averted and problems are solved.
In addition, we get you out of the classroom, where hands-on learning opportunities will enhance your knowledge and experience. You'll have the opportunity to present your research at state and national conferences, and compete in a simulation of an Arab League session, or join our award-winning mock trial team. You may have a chance to conduct research with a faculty member that ultimately will be published in scholarly journals or even a college textbook. You can participate in the annual Spring Lobby Weekend in Washington, D.C., which has become a signature hands-on learning activity at WC. There, you will learn about subjects such as mass incarceration or income inequality, and learn from experts how to lobby before actually lobbying your Congressional representative. This experience with "finding your voice" has been literally life-changing for many students.
FOOD POLICY & AGRICULTURE ADVOCACY is one of WC's newest major concentrations. Food production in the 21st century has become both a science and a social science with implications that resonate throughout American society, as well as the global economy, geo-politics and even carry a logical relationship for war and peace
Curriculum
PS130 American Politics

PS234G Global Politics

PS330 The Philosophical Foundations Of Western Political Thought