Master of Science (MS)
The Wilmington College Master of Science program in Occupational Therapy is a residential, entry-level program, designed with a unique focus on enhancing rural health care services. Students that attend this program will be well-prepared for practice in a wide variety of health care settings, with all age groups and diverse populations. Participation in the program requires a commitment of approximately 24 months, with students spending their first 4 semesters on campus completing the required coursework, and then leaving campus for the last 2 semesters to engage in the required Level II Fieldwork experiences.
Classes begin each January
LIMITED AVAILABILITY: We are currently accepting applications for January 2024 via OT CAS.
---
Mission
The mission of the Occupational Therapy Program at Wilmington College is to prepare exceptional occupational therapy professionals that recognize and respond to the unique needs of rural communities with a focus on evidence and occupation-based practices that are client-centered.
Vision
The vision of the Occupational Therapy Program at Wilmington College is to prepare innovative, community-driven leaders with an ability to educate, inspire, and problem-solve for citizens in underserved rural areas.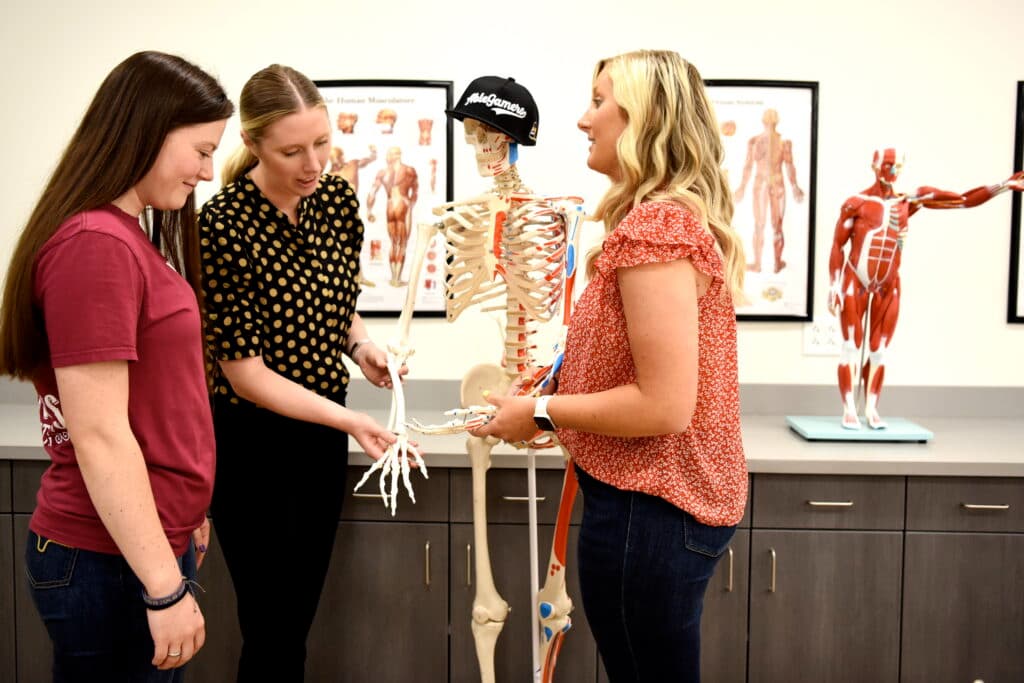 ---
Student Occupational Therapy Association
The Student Occupational Therapy Association (SOTA) at Wilmington College provides opportunities for students to promote and advocate for their future clients and profession. Students in the organization participate in fundraising, volunteer events and community outreach.
---
Wilmington College Therapeutic Riding Camp
The purpose of camp is to provide equine-assisted therapeutic and recreational opportunities for children with disabilities. The camp is led by staff and students from the department of occupational therapy in collaboration with the departments of equine and agriculture. Campers will enjoy a week of therapeutic horse-riding and fun, hands-on agricultural activities.
For more information, please contact Erin Bales, Assistant Professor of Occupational Therapy, or Javonne Mullins, Assistant Professor of Agriculture.
---
Accreditation
The entry-level occupational therapy master's degree program has applied for accreditation and has been granted Candidacy Status by the Accreditation Council for Occupational Therapy Education (ACOTE) of the American Occupational Therapy Association (AOTA). The program must have a pre-accreditation review, complete an on-site evaluation, and be granted Accreditation Status before its graduates will be eligible to sit for the national certification examination for the occupational therapist administered by the National Board for Certification in Occupational Therapy (NBCOT). Students who successfully completion of this exam, will become an Occupational Therapist, Registered (OTR).
Additionally, all states require some kind of licensure process to practice. These state licenses are usually based on the results of the NBCOT Certification Examination. Please note that a felony conviction can impact a graduate's ability to sit for this exam and/or attain state licensure.

Current information concerning accreditation status is available at www.acoteonline.org or by contacting:
The Accreditation Council for Occupational Therapy Education
6116 Executive Boulevard, Suite 200
North Bethesda, MD 20852-4929
301.652.AOTA