PICTURED: WC equestrian student Makayla Harrington (LEFT) and two volunteers guide a camper on her maiden voyage on horseback.
Wilmington College's new graduate program in occupational therapy places a focus on preparing professionals to serve rural communities. Its mission came to life with this summer's Therapeutic Riding Camp, which offered one of the enduring symbols of rural life — horseback riding — to area children with disabilities.
The five-day camp in mid-July at WC's Equine Center attracted 26 campers, ages kindergarten through sixth grade, from Clinton, Highland, Fayette, Warren and Hamilton counties. Their health challenges ranged from autism to social, emotional and behavioral disabilities.
Erin Bales, assistant professor of occupational therapy, said the camp increases the availability of services in recreation and leisure for the area children. "It answers the quest, 'How do we help kiddos?' Our program strives to prepare its students to become problem-solvers and to promote community-based health and wellness in unique ways.
"Enhancing quality of life is a big thing in occupational therapy!"
Split between morning and afternoon sessions, the campers engaged in various sensory activities including crafts, games and agriculture-related projects and animals — until it was their turn to ride. Enter Cowboy, Smoky, Kitty, Wally, Milly and Tango, the six horses selected for their gentle demeanor and ability to connect quickly with novice riders.
Bales explained how the riding camp went from an idea in class to involving all OT students and faculty members and partnering across the campus with WC's agriculture and equestrian areas.
"Several occupational therapy students with equine experience did research on therapeutic riding and said, 'Why don't we do it here?'" she said. Soon, they learned that WC's Dr. Javonne Mullins, assistant professor of agriculture, is an experienced therapeutic riding instructor and even has a background in speech therapy. "Javonne was the missing piece. Bringing her in brought it all together."
PICTURED: Occupational therapy students Sydney Faulconer (LEFT) and Austin Young assist campers in a multi-sensory activity.
Mullins explained the horses' movement has a "calming effect" and provides multi-sensory experiences involving touch, warmth, balance and coordination. "Also, it was truly a hands-on learning experience for our students," she added. "They planned each day's stations. Everything worked — it just flowed."
Indeed, Bales noted the camp was built into the OT students' course assignments resulting in an "absolutely perfect" field experience. They became one-on-one "buddies" with the children, so there was always a familiar face around. "The goal is to create a certified program in therapeutic riding instruction and learning how to use the horse's movement as a treatment tool for occupational, speech and physical therapy."
Bales expected the student to have a rich learning experience but was "pleasantly surprised" with how emotionally connected they became to the campers. "They could see the difference they made in people's lives," she added. "The students are so proud and happy they got that experience."
Aubrey Piccoli entered the OT program with a significant background in equestrian studies and riding experience, so the form of therapy used at the camp combined two of her passions, "a love for horses and helping people." She is considering pursuing a specialty in hippotherapy as an occupational therapist.
Rains served as a horse leader at the camp. Her duties included warming up the horses, tacking and keeping the horse safe, quiet and responsive to the riders' cues during the riding sessions. "We owe the success of the camp to six amazing horses that put up with all kinds of distractions," she said, citing the example of a fearful camper yelling as soon as he mounted his horse. "Yet, Smokey remained still and did not react, keeping the camper safe."
Maurita Oduor is another OT student. She was involved with creating and facilitating the game station that, over the week, included obstacle courses, parachute games, a sandbox, racing on stick horses, lassoing and other activities with therapeutic goals achieved by the campers.
"This week was an amazing experience for me!" Oduor said, noting she possesses a "heart" to work with children, especially in a camp setting. "The experience gave me the opportunity to think on my feet and use my therapeutic use of self as I constantly adapted each activity to the abilities and needs of each child."
Andrea Kelch, a WC senior studying equine business management, was a horse handler at the camp. She stayed at the barn 24/7 during the camp week to take care of the horses and was a key member during the planning stages.
She said the experience confirmed her career aspirations of, upon completing her undergraduate studies, returning to Wilmington College as a student in its Master of Science in Occupational Therapy program. She ultimately wants to open a therapeutic riding center.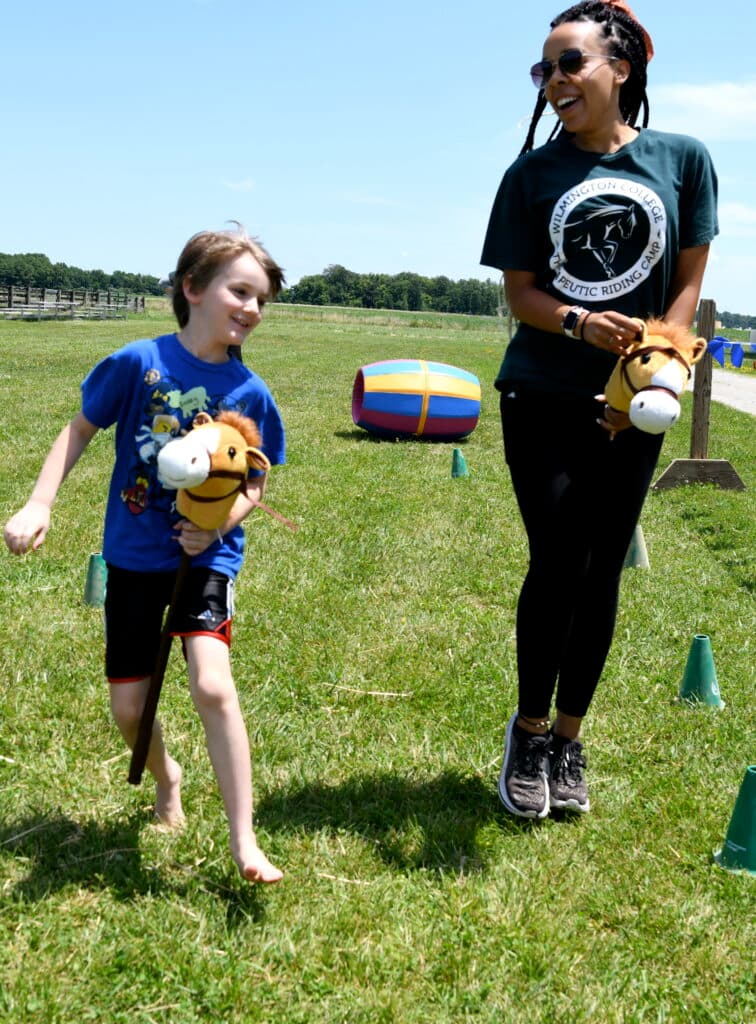 PICTURED: Occupational therapy student Maurita Oduor leads a stick pony horserace as a multi-sensory activity at the camp.
"I had such an amazing time at camp. It showed me that this is definitely what I want to do with the rest of my life," Kelch said. "The thing that surprised me the most about camp is how much the kiddos loved the horse station. I think that just goes to show how much horses can have a positive impact on people's lives."
That sentiment was evident in families' reactions to their children's experiences. One parent wrote, "This has been a great learning experience and a great chance for our children to expand their minds," while another said, "As parents, we see this opportunity as providing the child with an 'open door' that may lead to a rewarding 'journey.'"
Another stated, "Our child really enjoyed being with farm animals. He also befriended a volunteer (OT student) that worked with him and thinks he is very nice." "(My son and daughter) have really enjoyed it. Riding the horses relaxes one and energizes the other, which is perfect for them. We would love to participate again," a parent added, while, finally, another said, "Their smiles and confidence were obvious. It's a bonus to get to interact and bond with college students. I hope you continue this program. Erin and Javonne are amazing, as well as all the students!"