Addressing sexual assault, domestic violence, dating violence, and stalking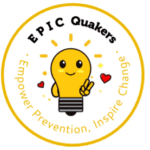 Effective October 1, 2020, the College was awarded the Office on Violence Against Women (OVW) Grant to Reduce Domestic Violence, Dating Violence, Sexual Assault, and Stalking Campus Program (Campus Program). The OVW Campus Program is a three-year grant that will primarily focus on prevention programming; all prevention efforts under the grant will collectively be referred to as the EPIC Quakers Project.
EPIC is an acronym for Empower Prevention, Inspire Change. This breaks down further into:
Empowering leaders

Preventing violence

Inspiring action

Changing culture
The Coordinated Community Response Team operates under the assumptions that:
Students deserve to learn in an environment that is free from violence.

Students cannot learn if they do not feel safe.

The 18 – 24 age group are at particular risk of experiencing gender-based violence in the United States, and campus environments are often characterized by high levels of victimization, low levels of reporting, and a pervasive cultural acceptance of rape myths, which create an environment where survivors feel disempowered and alienated.

Colleges need programs, services, and teams dedicated to preventing and reducing the risk of gender-based violence and to respond to incidents with consistency and support.

These programs and services help build intrinsic motivation (a sense of meaningfulness, ownership, competence, progress, and connection with people), new proactive, prosocial skills and behaviors, and positive campus norms while framing all members of the campus community as part of the solution.

EPIC helps students build life skills and is parallel in the College's Mission to educate, inspire, and prepare each student for a life of service and success.
EPIC Educators
An EPIC Educator is a part-time peer educator that will help the Director of Violence Prevention and Education with the EPIC Quakers Project; prevention programs can include educational events, awareness campaigns, tabling events, and trauma-informed trainings. The EPIC Educators (2 positions) will assist the Director of Violence Prevention and Education in planning and implementing prevention programs on topics such as: gender-based violence, resources for survivors, supporting survivors through campus disciplinary processes, rape culture, inclusive advocacy work, bystander intervention, etc. These positions are funded by the OVW Campus Program grant.
EPIC Educators will be assigned tasks to do throughout the year to educate the campus community, but students, faculty, and staff, are also encouraged to request educational sessions or reach out to the Director of Violence Prevention & Education if they want to collaborate for an event. Also, we encourage feedback of prevention programs/events and suggestions for events.