Mathematics (Minor)
Learning mathematics is more than equations on the board, more than a pencil and paper problem. Our students realize that math has real-world application and is fundamental to how the world works.
That's why WC's math courses incorporate more group dynamics and projects that reflect real-world problems than other schools. Our students don't just find answers to those pencil and paper problems; they develop an ability to understand concepts, which gets them excited and motivated about becoming immersed in the subject. They become critical thinkers who learn how to solve problems, analyze the solutions and communicate effectively about both their problem-solving methods as well as the implications of the solutions.
The faculty members, nearly all of whom hold doctorates, bring real-world experience ranging from engineering and education to business and pure math.
Not only do our faculty members teach vital concepts in mathematics, they also assist students in determining how they can pursue their interest in the subject. Faculty members ensure our students meet the right people and engage in the right experiences to advance their knowledge and practical skills, i.e., helping students plan their career journeys.
20
Credits to earn a minor
86%
of respondents stated that they were employed six months post-graduation from Wilmington College.
(Fall 2021 Student Survey)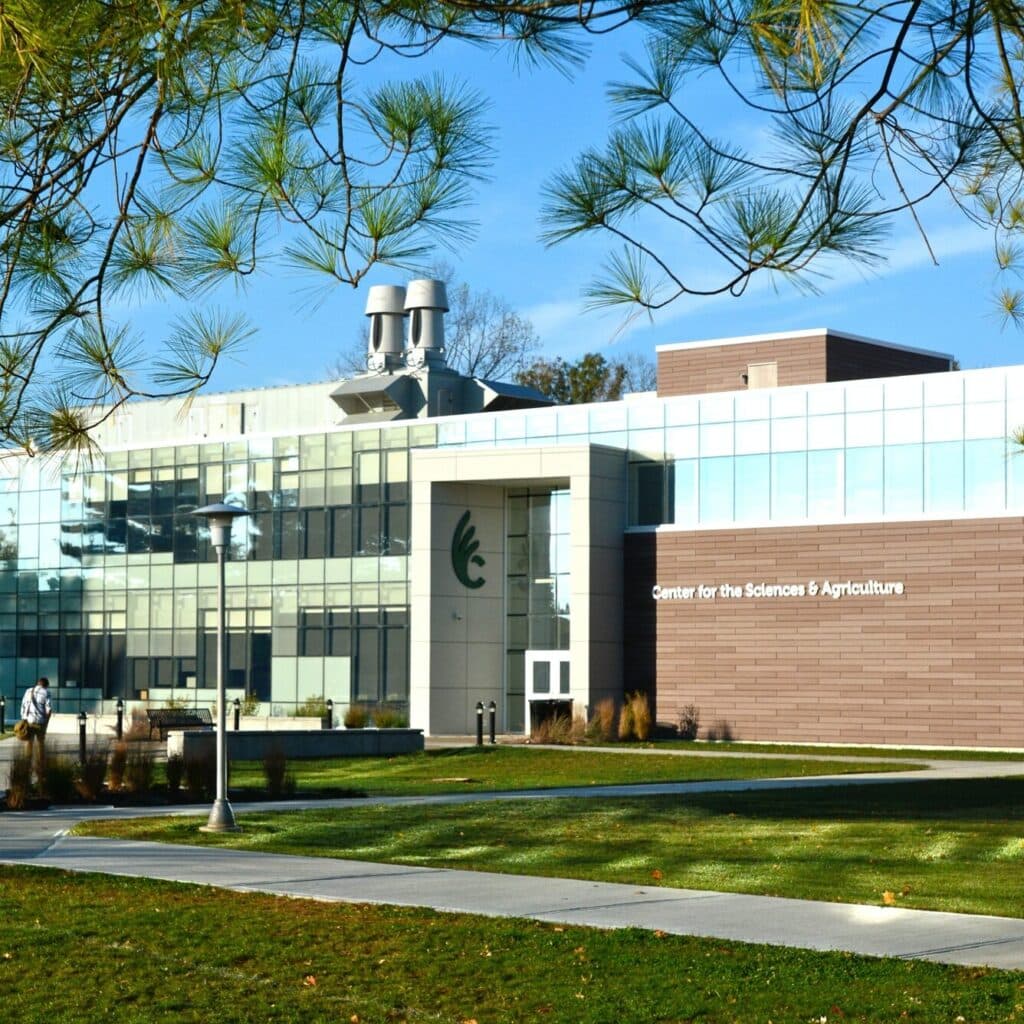 Center for the Sciences & Agriculture
The three-story Kettering Hall replaced Bailey Hall, which had been the home of the sciences since 1909. Physics and mathematics originally occupied the first floor while biology had the second and chemistry the third. The College Observatory was placed atop the facility, continuing the tradition established in 1882 of having an astronomical observatory. Kettering Science Hall served Wilmington College students well since opening in 1960, but its aging infrastructure and the recent influx of students in agriculture and the sciences brought about a need for a renovation and expansion in 2014. A $19.7 million, low-interest loan payable over 32 years, provided by the U.S. Dept. of Agriculture's Rural Development division, made the project possible. Also fundraising efforts reached $8.5 million for the $14 million Center for the Sciences & Agriculture, which was dedicated as part of Homecoming Oct. 8, 2016. The Center for the Sciences and Agriculture includes the renovated 34,000 square-foot Kettering Science Hall and a 13,500 square-foot addition. The facility hosts 10 classrooms, 10 laboratories, three research labs, two 100-seat lecture halls and 30 offices. The CSA, which was designed for LEED certification as an environmentally friendly facility, is the College's largest academic building. A new Observatory sits atop the CSA.
Curriculum
MT140 Calculus I

MT141 Calculus II

MT330 Linear Algebra
Faculty Spotlight